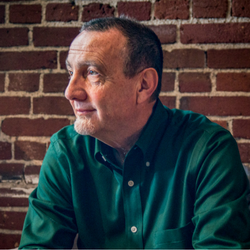 Talking with Angels and helping people to reclaim their soul was not always a part of my life! For the first 40 years everything was pretty "normal." I grew up in Hoboken, a small city in New Jersey that is most famous for being the birthplace of Frank Sinatra. Most of my early spirituality came from my Catholic upbringing and education – which took on new meaning when I went to a Jesuit college and was encouraged to question faith so that you could understand it more deeply. I was fascinated by all religions, particularly Native American spirituality. I totally believed in angels – although I did not know why – and while I had never experienced anything para-normal, I did believe that it existed.
That all changed in my early forties when I found myself sharing a very haunted home with a new friend that would later go on to become my life partner. In the process of learning how to help the energy in our home to reconnect with its higher self, I found myself reconnecting with what seemed to be a "memory" of knowing how to communicate with the world of spirits, the energy of the earth and eventually Angels. This led me to meeting my Guardian Angel and my greatest teacher Margaret.
Now I am the author of two Hay House best-selling books, an angelic channel, and a speaker, life coach and shamanic healer. For over twenty-five years, I have been helping individuals to reach their full potential and in teaching people how to listen to their body, mind and spirit by channeling my Guardian Angel Margaret in combination with the utilization of ancient shamanic healing techniques.
What I love about my work is that it is all very grounded and my approach is very down to earth – and so are the messages of Margaret! I love that because while it allows me to work with people from all over the world – the grounded nature of the process allows me to still be "Gerry from Hoboken." My mission is to use the insights that I gather as angelic channel in combination with ancient healing practices and to frame it in a way that modern society will best understand.
I help people to communicate with their body, with their mind and with their soul, and sometimes, with the souls of others. If your body has pain, it is talking to you. If your mind can't focus, or be still, or if it's locked in thoughts of regret, resentment or addiction, then it is talking to you. If you feel that there has to be something more to life and you just can't figure out what you are supposed to be doing with your life, then your soul is talking to you. I can help you to discover what your body, mind and soul is trying to tell you and can teach you how to listen and how to converse. Most of all, I can help you to rediscover how to do this – while expanding the joy in your life!
I also teach you how to talk to YOUR angels. Margaret helped me to create the Angels and Shamans workshop, which puts participants in direct communication with their angels and guides and which is presented LIVE as part of out new Living Room Tour!
Margaret also assists me through a process called Soul Reclamation where I am utilizing techniques that have been developed by "Shamans", the healers and priests of tribal people almost since the dawn of time, coupled with her insight and wisdom. What this does is to allow us to retrieve parts of your soul that have been lost to trauma, giving away your soul and more. It is an amazing, powerful and totally life changing process.
And together with Margaret I've developed the online course Soul Based Business which is helping people to change their lives in other ways by assisting them to find their true passion and purpose.
Last but not least please check out our weekly radio show "Messages from Margaret"!
If you have any questions about anything you find here on my site please don't hesitate to ask. You can reach me at gerry@gerrygavin.com. Or you can schedule a reading with Margaret.
And for those of you who are wondering – no, I don't still live in that haunted house that started all of this! I do still live in New Jersey, but have traded the city streets for a log cabin on a small horse farm. Although, I hope we get a chance to connect more deeply!
Gerry